Any organization or individual entrepreneur, regardless of ownership can became a partner of MAV. The company MAV provides its partners with comprehensive marketing and commercial support as well as renders a range of services for the successful development of Your business.
We are committed to a stable and long-term cooperation with our partners and dealers, and ensure that by deciding to work with the company MAV you get a reliable supplier and the following benefits: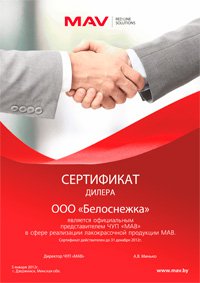 High quality of products and services
Favorable conditions for cooperation
Short manufacturing cycle
A flexible system of discounts
Training of Your staff
Advertising and information support
Decoration of shops, salons
Consulting on product promotion
A personal manager and an individual approach
Tinting Tone-in-Tone
Delivery, installation, configuration and maintenance of tinting equipment
Many other benefits.
We are please and grateful to work with any organization – large or small, public or private. In turn, we would like to obtain as a Dealer/Partner an organization that would work efficiently and responsibly to promote the products and brands of MAV in the region.
To gain access to this section, please register here.
If you have already registered, please login here.